It is not about the tools, or the gadgets, it is about the purpose of the learning.  Good teaching, is good teaching. A true technology integrator is a facilitator in their classroom and is able to bring together content knowledge, pedagogy, and technology knowledge.  They can start with their purpose of learning, plan activities that show good teaching (pedagogy), and choose an appropriate technology that enhances motivation and authentic learning in their classroom.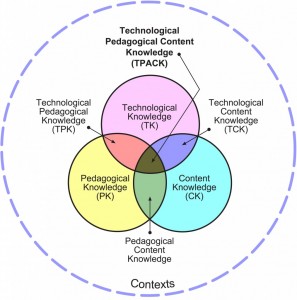 TPACK has been explored for years- information and discussion can be found at:
We are using TPACK as the framework for our technology professional development.  Each workshop starts where all good learning should start, with the purpose of the learning.  Teachers are then exploring various technology tools that will allow their students to increase their learning.
Anyone else using TPACK in their district?  What has been your successes and/or struggles with achieving true technology integration in the classrooms throughout your district?