We have seen research and statistics on how students learn and have all probably heard, or seen, the Cone of Learning which was originally created by Edgar Dale in the 1960s. As you can see below the cone basically supports the need to incorporate active learning components into classroom instruction.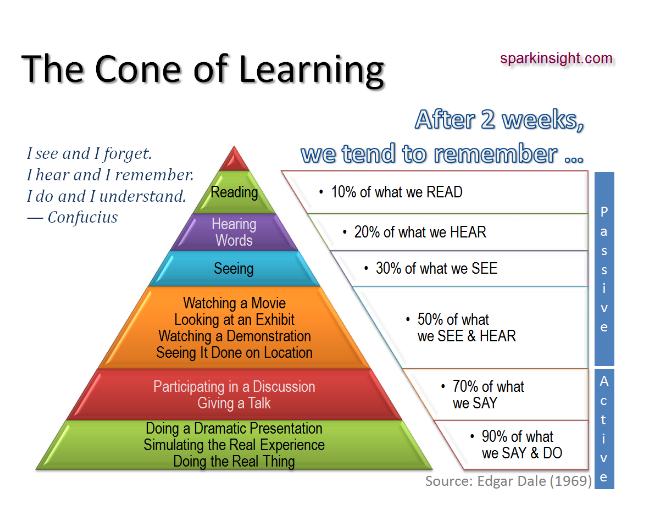 I doubt if Edgar Dale predicted the explosion in technology when he created this, and yet the use of technology fits perfectly into active learning. Technology integration allows students to explore, discuss, present, simulate, and create authentic projects.
With this in mind, my latest 'tasks digitalized' idea will center around the notion that students learn by doing and by teaching others. Instead of always testing students at the end of a unit, how about having them create a tutorial, PSA, or documentary for others, so they can be teachers, or masters of the topic? Of course to make these even more authentic they should be shared online using a video sharing site, or by embedding them into a blog or wiki so others can benefit from them.
Task: Assessing student knowledge of a topic (hand in version would be a quiz or test)
Purpose: to evaluate evidence of learning
Digitalized: Performance task that demonstrates knowledge, such as one that has students become the teacher, or expert of knowledge.
Here are some possible tools for students to use to create a tutorial, PSA, or documentary about a topic.
This is a very basic tool that is extremely easy to use and create a simple tutorial.  Students can either draw, add text, erase, and add voice. Once finished students can either embed code into a website, blog, or class wiki or share a url to their tutorial.
I can see this being used very easily with math.  At the end of your unit, have students take different concepts and write a script explaining the concept. After they have their script get them set up on Sketchcast and practice their script until they are ready to publish. If students are using a lot of written computation, they may want to record it using a tablet or on a SMART Board since using a mouse may be difficult for some students.
*Also, if you have a SMART Board you may want to simply use the SMART Recorder to create these tutorials.
Create a digital video of project using Photo Story 3, Movie Maker, or iMovie (all free video editing softwares)
This especially works well with creating PSAs (Public Service Announcements). Students create the script, gather images that fit, practice, record and edit final PSA using one of these easy to use programs.
Other free tools for creating videos:

VideoSpin This is not web-based and does require downloading software. Once downloaded I found it very much like Windows Movie Maker, easy to use. You can upgrade for more features but I liked that you can publish directly to yahoo or youtube if you want to. There are also various format choices (although some are a 15 free day trial, then you would need to purchase the codecs)

animoto Depending on length and components you want included, you may need to upgrade (starting at $30.00/year).
Jaycut is a web-based video editing app.  It is easy to create a free account and upload media.  Works very much like other video editing software, but I found the transitions a little cumbersome to add.
There are many other ways you can have students show evidence of learning using digital tools. I will try to address others  in the next month or so.